Golden Retrievers, German Shepherds, and Chihuahuas are among the most popular dog breeds on TikTok, new research has shown.
With more people looking for mood-boosting content for dogs than ever before, a report from Money.co.uk found that there have been a whopping 120 billion views of dog videos since the social media app launched. From funny clips to heartwarming stories, it seems like we all love to see adorable pups all over the world.
While each breed is wonderful in its own way, the lovable Golden Retriever was found to be one of the most watched on TikTok, garnering an impressive 9.2 billion views across the platform. In second place with 4.3 billion views is the German Shepherd, while Chihuahuas (4.1 billion), Pugs (3.6 billion) and Rottweilers (3.2 billion) completed the top 5.
Huskies made the list too
Petko NinovGetty Images
"The TikTok video sharing app has become hugely popular in recent years and millions of people use the app to get their favorite internet product – cute dog videos – every day," said the Money.co.uk team. "In fact, dog videos have been viewed billions of times on TikTok to date, but it appears that some dog breeds are far more popular than others on the social media site."
See the full results below …
The 20 most popular dog breeds on TikTok
Golden Retriever (9.2 billion views)
German Shepherd Dog (4.3 billion)
Chihuahua (4.1 billion)
Pug (3.6 billion)
Rottweiler (3.2 billion)
Pomerania (3.1 billion)
French Bulldog (2.8 billion)
Labrador (2.6 billion)
Poodle (2 billion)
Great Dane (1.7 billion)
Siberian Husky (1.4 billion)
Samoyed (1.2 billion)
Border Collie (1 billion)
Sprollie (872 million)
Beagle (737 million)
Chow Chow (617 million)
Shih Tzu (600 million)
Australian Shepherd (515 million)
Newfoundland (511 million)
Bernese Mountain Dog (409 million)
Do you like this article? Sign up for our newsletter to receive more articles like this straight to your inbox.
SIGN IN
Looking for something positive? Receive Country Life Magazine in your mailbox every month. SUBSCRIBE NOW
7 paddling pools for dogs for summer 2021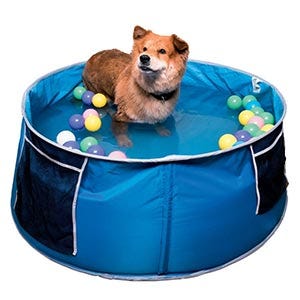 Cool Club dog paddling pool blue
Pet head
petsathome.com
£ 25.00
The Cool Club Pop Up dog bath and paddling pool is very easy to use. It's quick to assemble, disassemble, and stow away, which makes it perfect for smaller gardens. It consists of a galvanized spring steel frame that can be opened and closed in seconds without tools. It also has a mesh pocket and is made of durable double-walled polyester.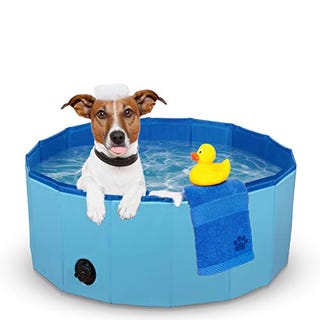 Foldable paddling pool for pets
Dono
amazon.de
€ 22.99
This fold-out dog paddling pool is ideal for medium to large dogs that need to cool off on a hot day. It can be opened quickly and easily and has integrated drainage holes. Ideal for trips and stays, it is made of durable PVC material that prevents punctures.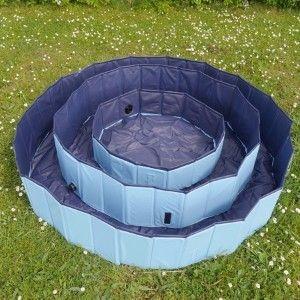 Rosewood Cool Down Foldable Dog Pool
Pet head
petsathome.com
€ 28.00
This foldable dog paddling pool comes in multiple sizes so you can choose the right one for your pet. The side walls are made of reinforced plastic and medium-density fibreboard, which prevent water spills and punctures and make inflation unnecessary. It comes in its own bag with handles that make it portable and ideal for travel.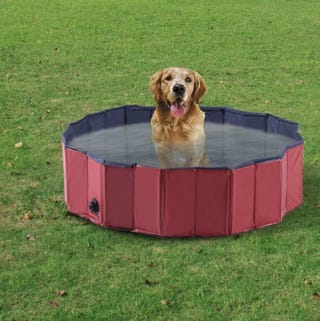 Pet Swimming Foldable Indoor / Outdoor Grooming Tub
This Wayfair dog paddling pool is also advertised as a grooming area and can be used both indoors and outdoors. When used as a paddling pool, it has a drainage hole. It's foldable and easy to carry.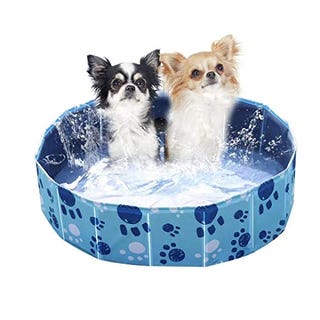 Wdmiya dog paddling pool
Wdmiya
amazon.de
The paw print design of this dog paddling pool makes it super clear whose space it is to cool off and relax on a hot day. Suitable for smaller dogs, it's multifunctional and advertised as a great cat or dog pool, sandpit, or ball pit.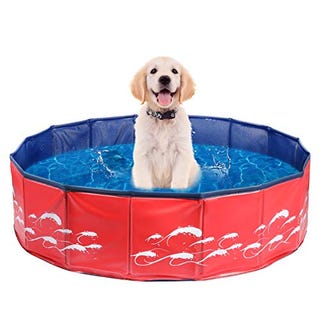 Delicacy foldable paddling pool for dogs
delicacy
amazon.de
€ 27.99
The bright red design of this dog paddling pool is sure to add some fun to your yard when your pet is splashing around. It has non-slip material on the bottom and it only takes a few seconds to fold up.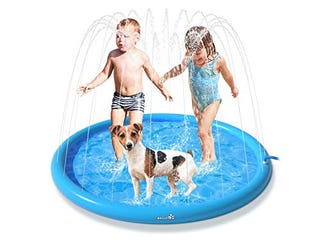 Pecute sprinkler pad for dogs & children
Pecute
amazon.de
This shallower version of a traditional wading pool has a built-in sprinkler that will delight and cool both pets and children. For use, plug the inflatable splash pad into a standard garden hose to fill it with water. Since it is inflatable, you will need to trim your dog's nails before using it and make sure he doesn't bite it.
This content is created and maintained by third parties and imported onto this page to assist users in providing their email addresses. You may find more information on this and similar content at piano.io