Some dog breeds are easier to take care of than others and with the sheer variety out there, it could be puzzling to know where to start.
All dogs require a lot of attention and work, which means they might not be the right for busy people who are unable to put meet the demands.
Using information from the American Kennel Club, here is a round up of some that are generally easiest to look after.
Bichon Frise
The Bichon Frise is a very popular breed in the U.S. In this photo, A Bichon Frise is viewed in the benching area during the Daytime Session in the Breed Judging across the Hound, Toy, Non-Sporting and Herding groups at the 143rd Annual Westminster Kennel Club Dog Show at Pier 92/94 in New York City on February 11, 2019.
TIMOTHY A. CLARY / Contributor/Getty
If you're looking for a great companion for adults as well as children, a Bichon Frise could be exactly the addition you need. Their confidence and easy-going personality make these bundles of white fluff easy to train as well as keen people pleasers.
The American Kennel Club (AKC) called the breed "among the world's great personality dogs." It also said their size makes them "ideal city dogs" and "adaptable companions who get on well with other dogs."
Bulldog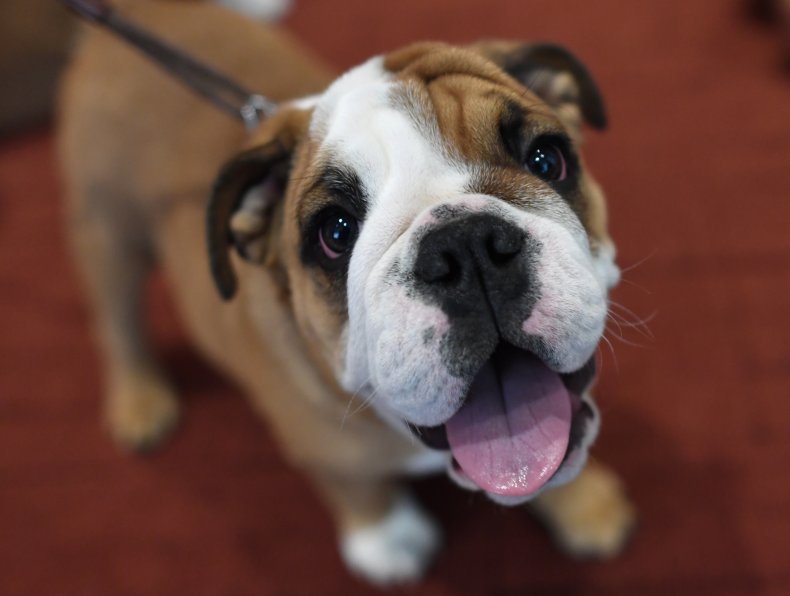 Bulldogs are a loveable and friendly pet to introduce to the family. In this photo, A bulldog named Dee poses during a news conference with American Kennel Club and HJ Kalikow & Co. August 9, 2017 In New York. AKC Champion Dogs, leadership of the American Kennel Club and HJ Kalikow made an announcement regarding the relocation of AKCs headquarters to 101 Park Avenue in Manhattan.
AFP Contributor / Contributor/Getty
Budding dog owners looking for a mellow pooch need look no further than the iconic bulldog. While their sturdy appearance found them becoming a symbol of the "British Bulldog Spirit" in the U.K. during WWII the famous breed is more likely to curl up on your lap than picking a fight.
For some, the bulldog's easy-going ways can be mistaken for laziness, but this is hardly the case. The AKC says bulldogs "enjoy brisk walks and need regular moderate exercise." The breed is also ideal for apartment living, although all owners will need to be careful to maintain a careful diet and be aware of their labored breathing in humid weather.
Collie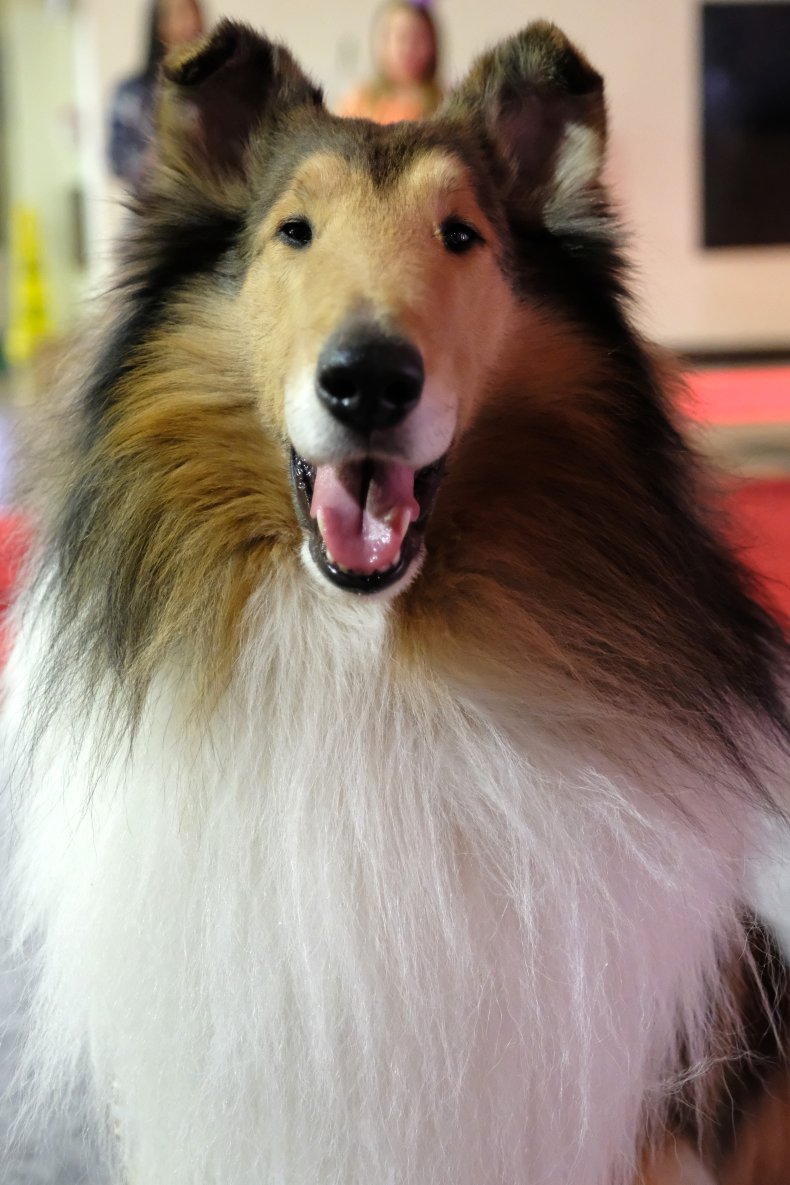 Collies are known to be great with children. In this photo. A collie is seen backstage at the 2020 Beverly Hills Dog Show at the Los Angeles County Fairplex on February 29, 2020 in Pomona, California.
Sarah Morris / Contributor/Getty
The Collies' gentle nature makes them perfect for families with children. Keen to please and protect their families, collies make for loyal companions and are very trainable due to their intelligence.
If you are planning on making a Collie the latest addition to your family, be prepared to devote some time to their well-being. The AKC said: "These swift, athletic dogs thrive on companionship and regular exercise."
French Bulldog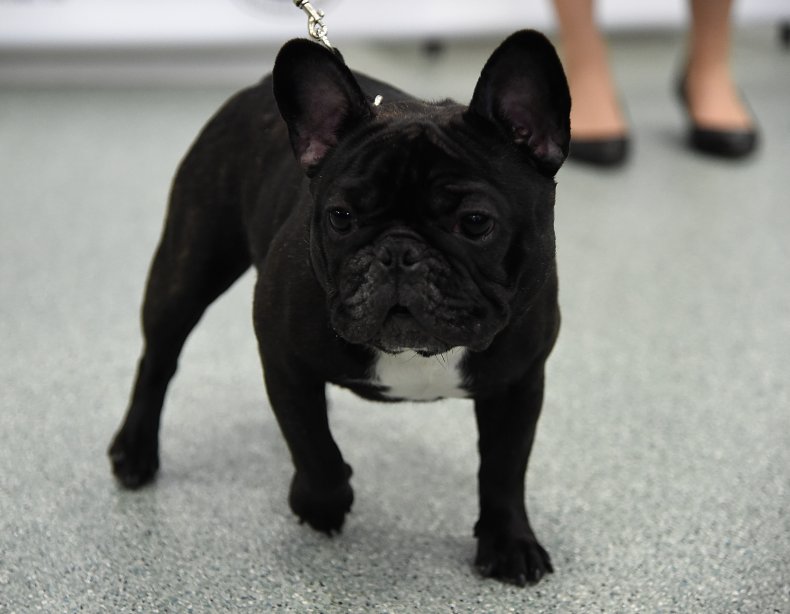 French bulldogs are among America's favorite pets. In this photo, a French Bulldog, the 6th most popular breed of 2016, is shown at The American Kennel Club Reveals The Most Popular Dog Breeds Of 2016 at AKC Canine Retreat on March 21, 2017 in New York City.
Jamie McCarthy / Staff/Getty
The lively little French Bulldog could be the ideal pooch for prospective owners looking for a friendly and bright companion.
Their happy nature makes them a perfect fit for sole owners as well as families and thrives in cities. "The Frenchie is playful, alert, adaptable and completely irresistible," according to the AKC.
French bulldogs, like all short-faced dogs, do have breathing difficulties and need to avoid strenuous exercise as a result.
Golden Retriever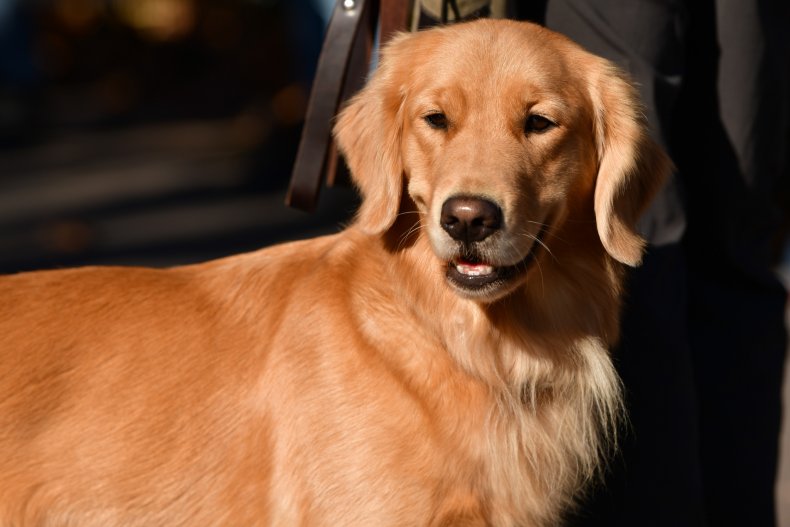 Golden Retrievers are known for their loyalty. Golden Retriever seen on the set of 'Hawkeye' in Washington Square Park on December 3, 2020 in New York City.
James Devaney / Contributor/Getty
Golden retrievers are smart and loyal dogs that make for an ideal new family member. Their friendly and tolerant attitude makes it easy to see why they are one of the most popular dog breeds in the U.S.
Goldens also thrive in the outdoors, which would make them the perfect partner for those looking to swap the office desk for wide-open spaces at the weekend. The AKC said: "They take a joyous and playful approach to life and maintain this puppyish behavior into adulthood."
Irish Setter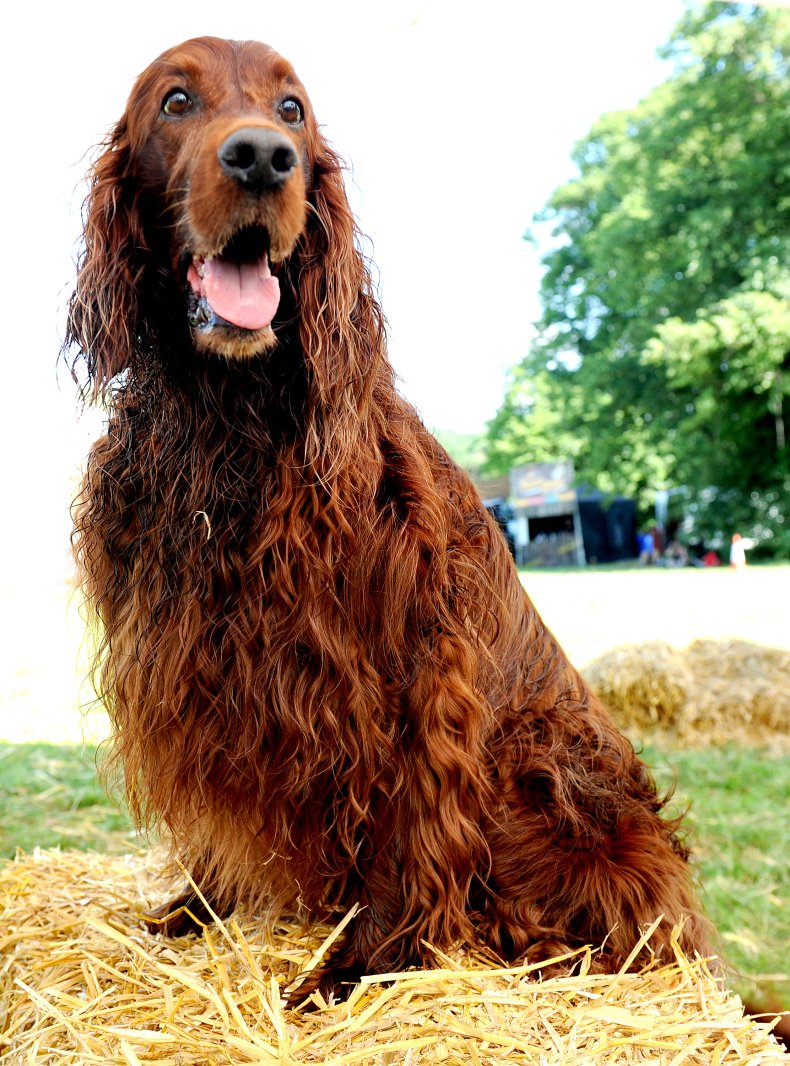 The Irish Setter is known for is distinctive coat. In this photo, an Irish Setter attends DogFest north hosted by Supervet, Professor Noel Fitzpatrick at Arley Hall on June 18, 2017 in Northwich, England.
Shirlaine Forrest / Contributor/Getty
Irish Setters are "famously good family dogs, sweet-tempered companions for the folks and rollicking playmates and tennis-ball fetchers for the children," according to the AKC.
Labrador Retriever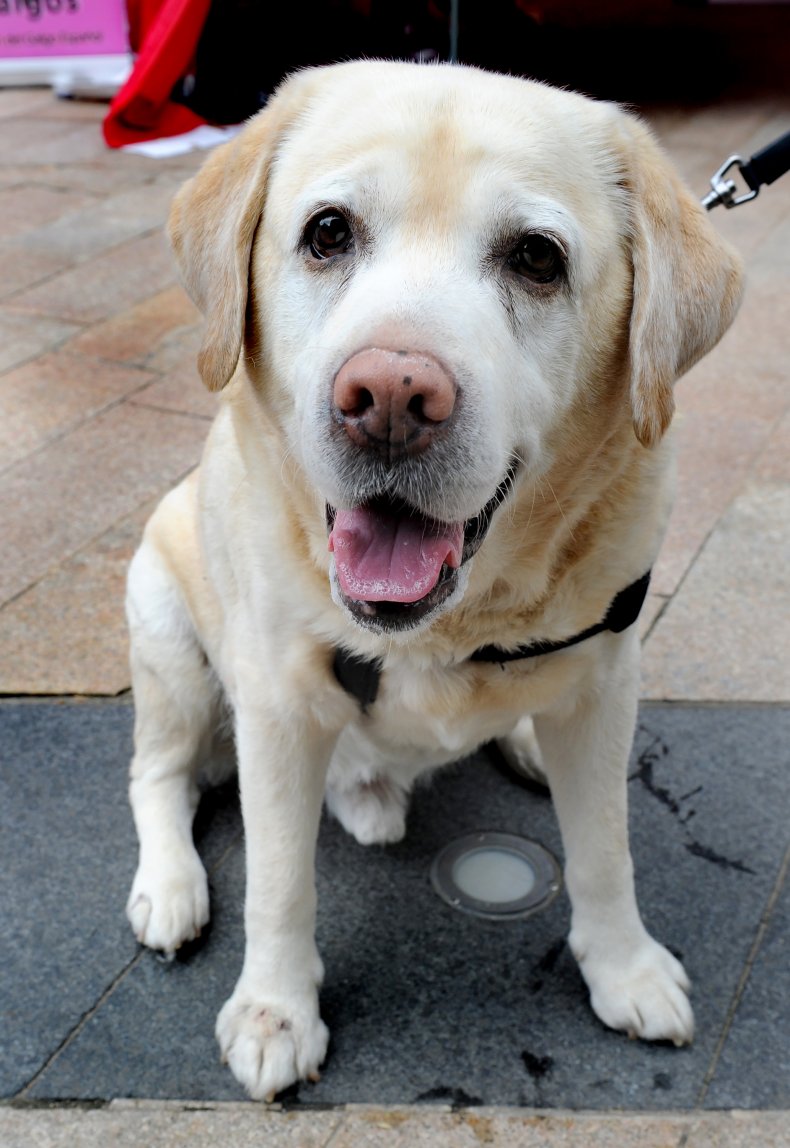 Labrador Retrievers are popular with families looking for a devoted partner. In this photo, Ollie the Golden Labrador Retriever enjoys The Family Pet Show 2019 at Media City on July 21, 2019 in Manchester, England.
Shirlaine Forrest / Contributor/Getty
According to the AKC, the Labrador Retriever is America's favorite pooch and it's easy to see why. Friendly, active and outgoing, the beloved breed is famed for being a companionable housemate who will bond with the whole family.
The AKC said of the breed: "They socialize well with neighbor dogs and humans alike." But, anyone looking to take on a Lab should be prepared for long games of fetch and other exercises to keep their dog physically and mentally fit.
Beagle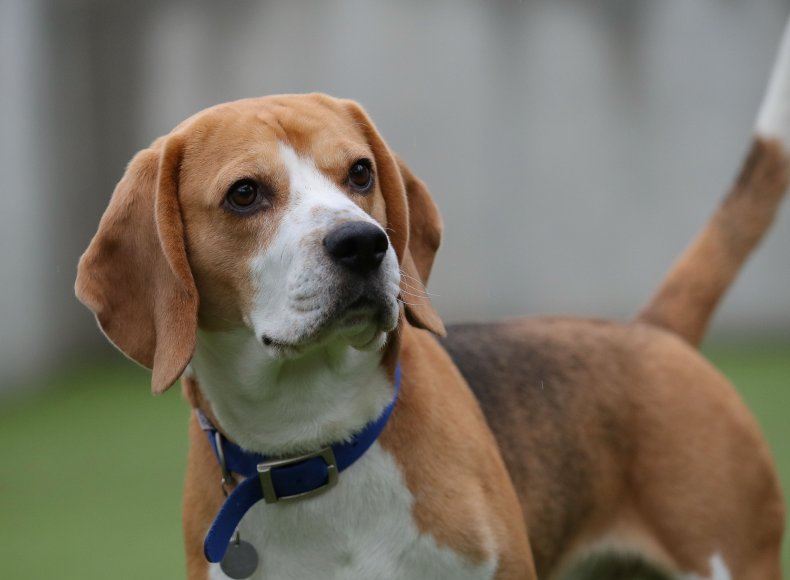 Beagles are a charming breed of dog to own. In this photo, Prince a 3 years old Beagle sits for a portait at Battersea Dogs & Cats Home on December 17, 2019 in London, England.
Mike Marsland / Contributor/Getty
The beagle proves that great things do indeed come in small packages. This loyal and friendly breed really shines with a loving human companion.
While they will require training early on to iron out any bad habits and regular attention, they make for an ideal first pet for a family with children. They are also great with other dogs, in case you're thinking of bringing two beagles home instead of just one.
Border Terrier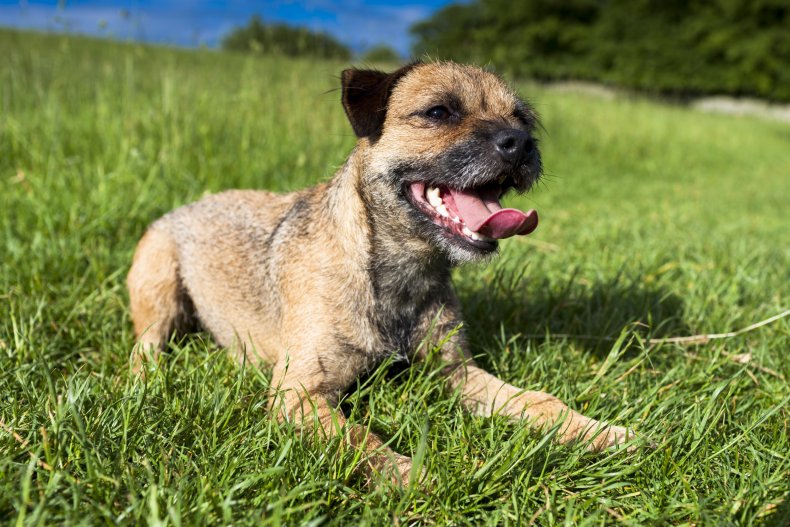 The Border Terrier is known as a gentle dog breed. In this photo, a Border Terrier dog lying down puffed out and panting with tongue after chasing around, United Kingdom
Tim Graham / Contributor/Getty
Border Terriers stand out from other breeds thanks to what the AKC calls an "otter head," so expect yours to catch people's attention when going out for a walk.
While we're talking about the outdoors, the border terrier loves exploring fields and woods, although their "hunting instincts can be aroused when cats or squirrels cross their path," according to the AKC.
Despite being bred for country life, they adapt well to apartment living and make excellent childhood playmates.
Corgi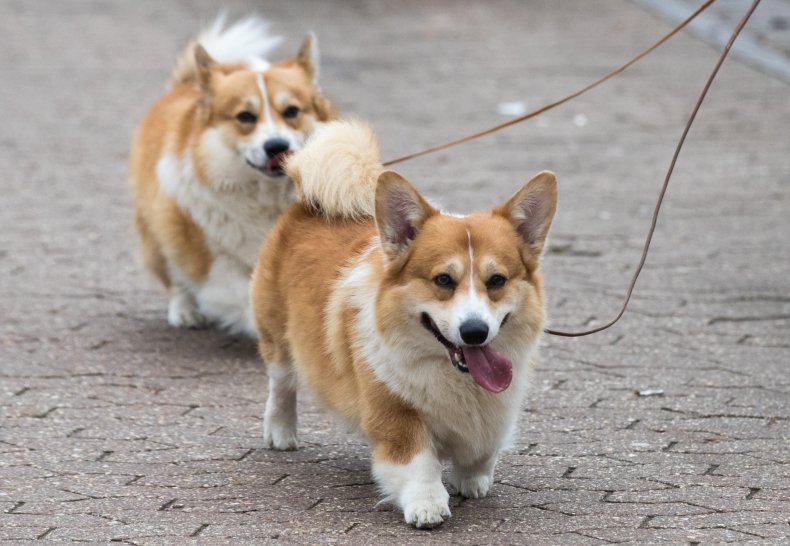 Corgis are the favorite pet of the Queen of the U.K. In this photo, a pair of corgi dogs arrive on the second day of Crufts Dog Show at the NEC Arena on March 10, 2017 in Birmingham, England.
Matt Cardy / Stringer/Getty
If you would like a dog with a touch of class, you could do worse than a Corgi. A favorite of Queen Elizabeth II, the Corgi is a "bright, sensitive dog who enjoys playing with his human family and responds well to training," according to the AKC.
Despite their gorgeous looks and playful nature, the Corgi is a vigilant watchdog that comes equipped with a bark that could be easily mistaken for that of a "big dog." Corgis also make for excellent family companions.
Dachshund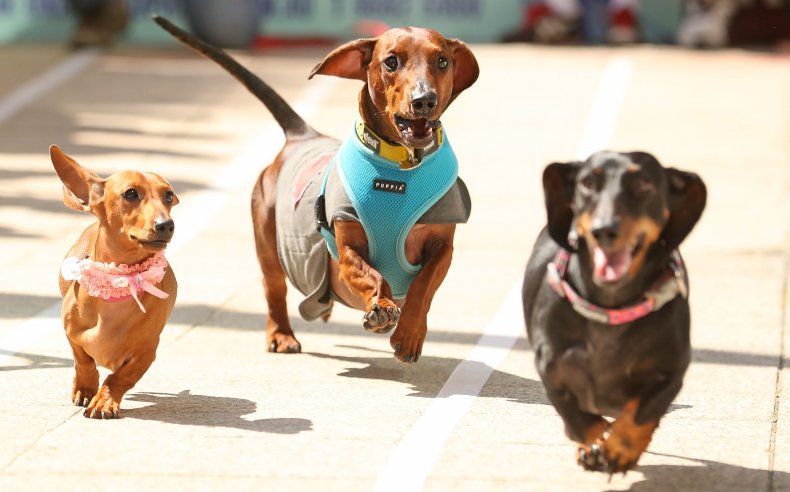 Dachsunds are known for their odd shape. In this photo, Dachshunds run as they compete in the annual Teckelrennen Hophaus Dachshund Race on September 23, 2017 in Melbourne, Australia.
Scott Barbour / Stringer/Getty
Iconic in every way, the Dachshund is unmistakable thanks to its long body and little legs that have onlookers fawning over them. While its short stature means you won't find a Dachshund turning into a keen swimmer or long-distance runner, they make for excellent leisurely walking companions for busy owners.
And, combined with their vivacious and bold personality, it is no wonder the AKC has praised the Dachshund's "endearing nature and unique look that has won millions of hearts the world over."
Cavalier King Charles Spaniel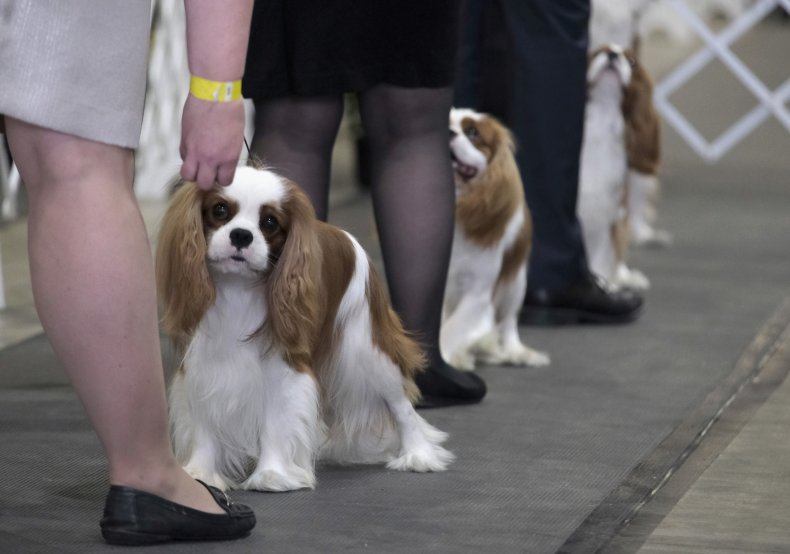 Cavalier King Charles Spaniels are beautiful dogs
Chris Weeks / Contributor/Getty
While this beautiful breed may have a name befitting nobility, Cavaliers are anything but snooty. Famed for their adaptable nature, the Cavalier does excellently well with children and other dogs.
Cavaliers also take on the habits of their owners and can do well with active owners or homebodies with a more relaxed lifestyle. Be aware they will need weekly brushing to stop their hair from getting tangled, but that is a small price to pay for such a charming friend.
Whippet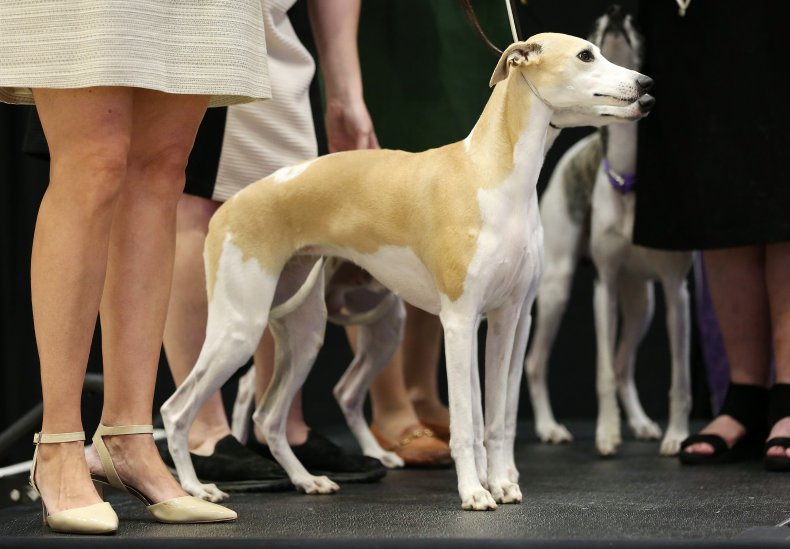 Whippets have a noble body shape. In this photo, Whippets take over Madison Square Garden to celebrate the 125th anniversary of the first competition at the Westminster Kennel Club Dog Show at Madison Square Garden on September 26, 2017 in New York City.
Monica Schipper / Contributor/Getty
If you're in need of a low-maintenance hound, then a whippet could be just the addition you're looking for. This special breed is more than happy to relax in its bed until you arrive home from work, but can suddenly find an abundance of energy if you fancy a walk.
And if grooming is not your thing, then have no fear. A whippet's short coat means grooming is virtually unnecessary. An added bonus is that while whippets thrive in homes with larger fenced gardens, they can also make apartments into a home.
Maltese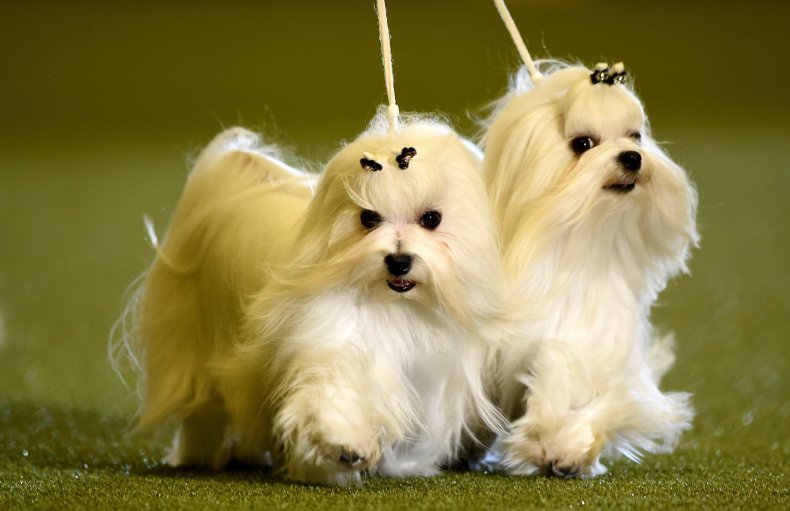 Maltese dogs have an unrivalled coat. In this photo, Maltese dogs are presented during a dog show at the "Hund & Katz" pets fair on May 11, 2014 in Dortmund, western Germany. The international dogs and cats show was running from May 9-11, 2014.
PATRIK STOLLARZ / Staff/Getty
Arguably one of the most adaptable breeds out there, the Maltese is content being both a lap dog and an outgoing partner. Prospective dog owners keen for a new friend, but not the hair that finds itself everywhere might also want to consider the Maltese as they hardly shed at all.
Be careful though, while Malteses are known for their friendly personality, make sure to teach commands early on to iron out any stubborn traits and "respond well to rewards-based training," according to the AKC.
Papillon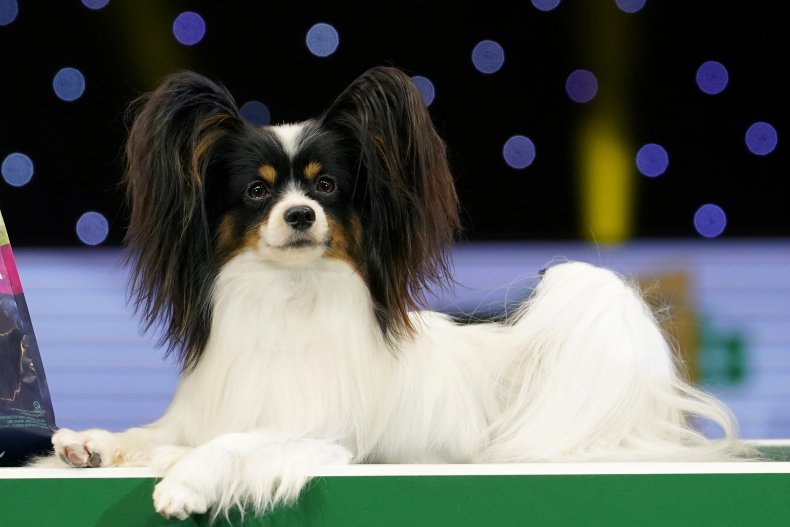 Papillons are known for their unique features. In this photo, Dylan, a Papillon from Belgium, poses after winning Best in Show on the last day of Crufts Dog Show at the National Exhibition Centre on March 10, 2019 in Birmingham, England.
Christopher Furlong / Staff/Getty
Always seen with a smile on their face, papillons are a happy breed that is pleased to play wherever they find themselves.
This adaptability means they are suited to countryside and city living and, according to the AKC, are "eager to join family fun" and are blessed with "a hardy constitution."
And grooming requires minimal effort, as they have no undercoat.
Miniature Schnauzer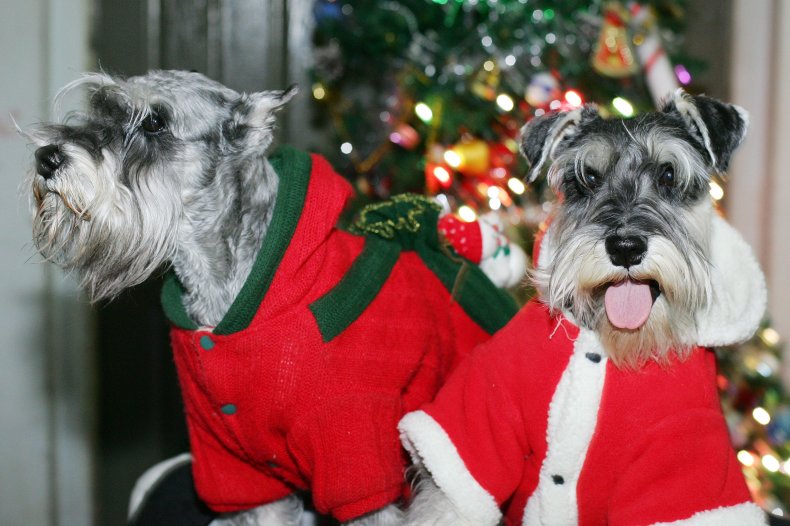 Miniature Schnauzers make perect pets for families. In this photo, Schnauzers dressed in festive Santa suits are shown during a pet dog show held by the Jilin Pet Industry Association on Christmas Eve, December 24, 2007 in Changchun of Jilin Province, China.
China Photos / Stringer/Getty
As the name suggests, this is the smallest of three Schnauzer breeds and is considered to be among the most easygoing pooches.
The AKC is keen to sing the Minature Schnauzer's praises and said the breed is "a bright, friendly, trainable companion, small enough to adapt to apartment life but tireless enough to patrol acres of farmland."
Ever loyal to its family, Miniature Schnauzers also make for great watchdogs who are keen to keep their homes safe.
Greyhound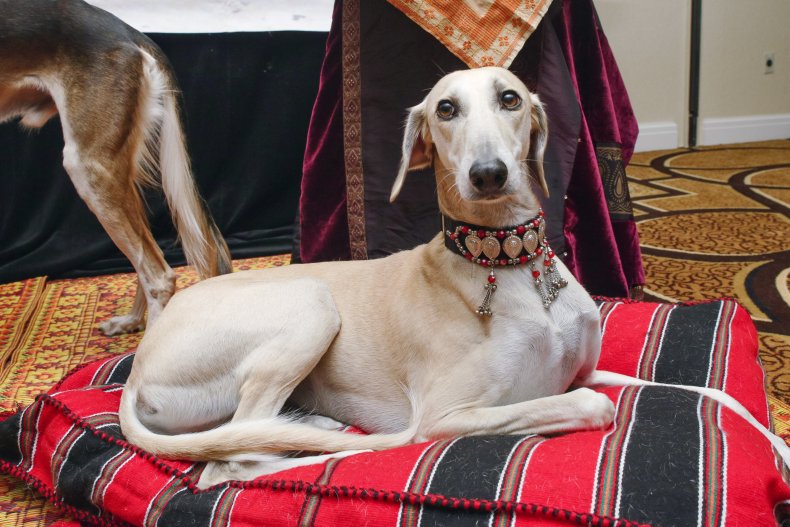 Greyhounds are kings of the race track. In this photo, Fugar the Saluki attends the AKC Meet The Breeds Sneak Peek at the New York Marriott East Side Hotel on September 26, 2013 in New York City.
Andrew Toth / Contributor/Getty
Despite being champions of the race track, these graceful hounds are not a high-energy breed and enjoy being couch potatoes as much as being out for their daily walks.
Greyhounds are also, generally, considered to be easy to handle and are very responsive to training. While they are large, they are not the biggest breed and are overall a healthy dog compared to others. The AKC has many fond words for this champion breed and said they are "gentle, noble and sweet-tempered
Poodle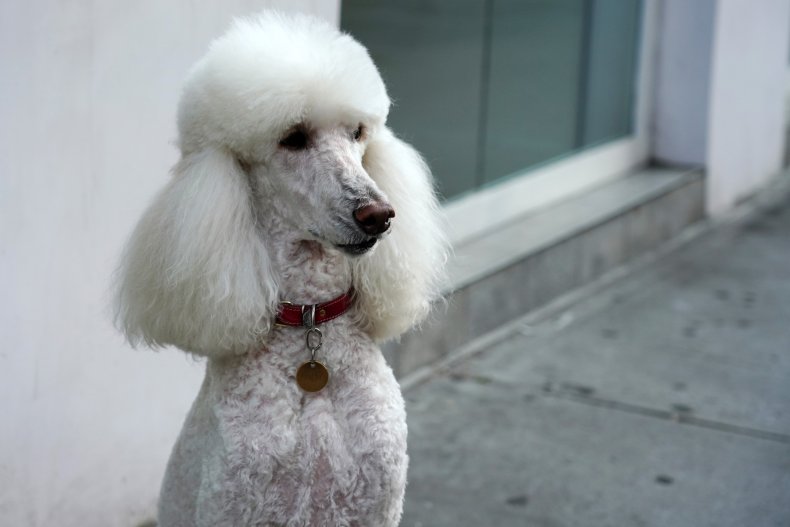 Despite their looks Poodles are not divas. In this photo, a white Standard Poodle poses for a photo during the coronavirus pandemic on May 15, 2020 in New York City. COVID-19 has spread to most countries around the world, claiming over 308,000 lives with over 4.6 million infections reported.
Cindy Ord / Staff/Getty
Surprised? You shouldn't be. Despite its unhelpful stereotype for being a high-maintenance dog, the poodle is incredibly versatile and incredibly smart. The AKC said the poodle is "the best all-around athlete of the family" and "can be trained with great success.
While poodles are known for their extravagant coat, they are low-allergen and don't shed much. Owners keen to show off their pretty pet will be pleased to know that walks are not the only outing poodles will need and thrive off regular trips to a groomer.
Overall, poodles are the perfect companion for owners who want a smart and eager dog that is quick to learn and adaptable to its family's needs.
Pomeranian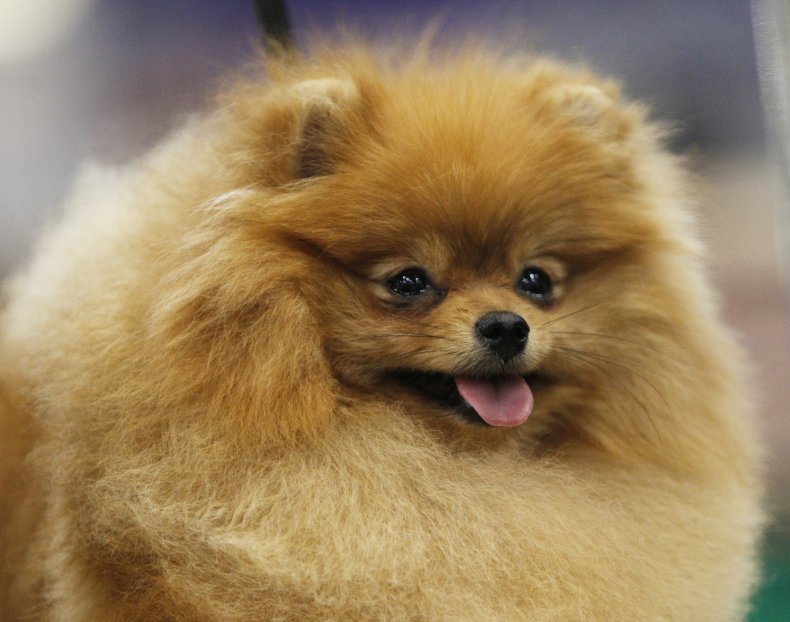 Pomeranians are delightful bundles of fluff. In this photo, A Pomeranian on day four of the Cruft's dog show at the NEC Arena on March 11, 2018 in Birmingham, England.
Richard Stabler / Contributor/Getty
This pint-sized pooch is alert and intelligent making them an easy breed to train for those who don't want to devote too much of their time to coaching good habits out of their new partners. The AKC also describes the Pomeranians as "fine watchdogs and perky pets for families with children."
Their adaptability also makes them perfect for both countryside and city living and can be exercised indoors or with a short walk. Do make sure to keep up with grooming as they will need frequent brushing to maintain their iconic coat.
Irish Wolfhound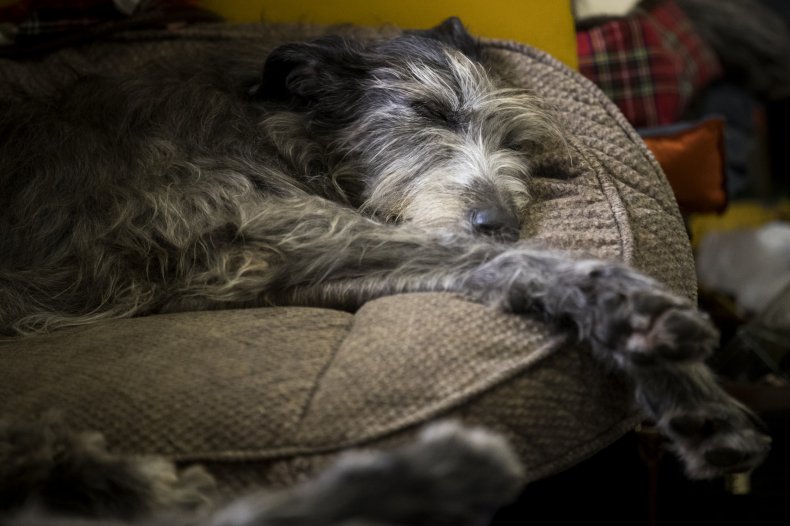 Irish Wolfhounds enjoy taking a nap. In this photo, an Irish Wolfhound sleeps in the grooming area at the 142nd Westminster Kennel Club Dog Show at The Piers on February 12, 2018 in New York City.
Drew Angerer / Staff/Getty
Yes, they are enormous, but Irish Wolfhounds are "incredibly calm and sensitive to the emotions of humans," according to the AKC. Irish Wolfhounds also comes equipped with fierce intelligence, which means they learn very quickly
While taking on such a large dog is a commitment in itself, the rewards of a characteristically patient pet that is great around children. Be careful to supervise them as animals their size could knock over their little friends by accident.
Boxer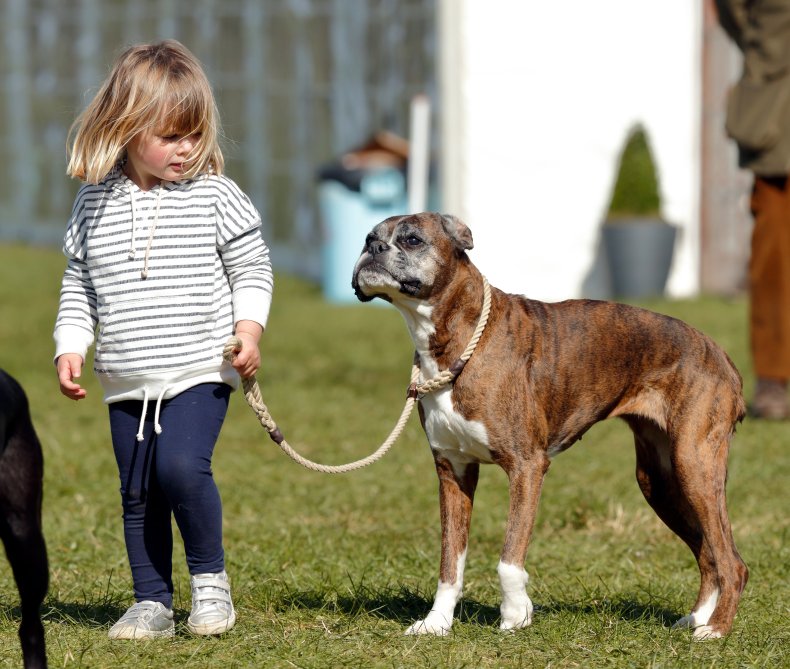 Boxers are famed for their loyalty. In this photo, Mia Tindall walks her mother Zara Phillips's boxer dog 'Spey' as she attends the Gatcombe Horse Trials at Gatcombe Park on March 26, 2017 in Stroud, England.
Max Mumby/Indigo / Contributor/Getty
As the name suggests, the Boxer has a fighter's spirit and is protective of families, notably younger children. That said, the boxer has a loveable streak to match its fierce loyalty and thrive in homes with active owners.
The AKC said the breed "is upbeat and playful" and "do best when exposed to a lot of people and other animals in early puppyhood."
If you lead an on-the-go lifestyle, then a boxer could be just the companion you need and love being trained. You will also be pleased to learn that Boxers need little in the way of grooming.
Tibetan Spaniel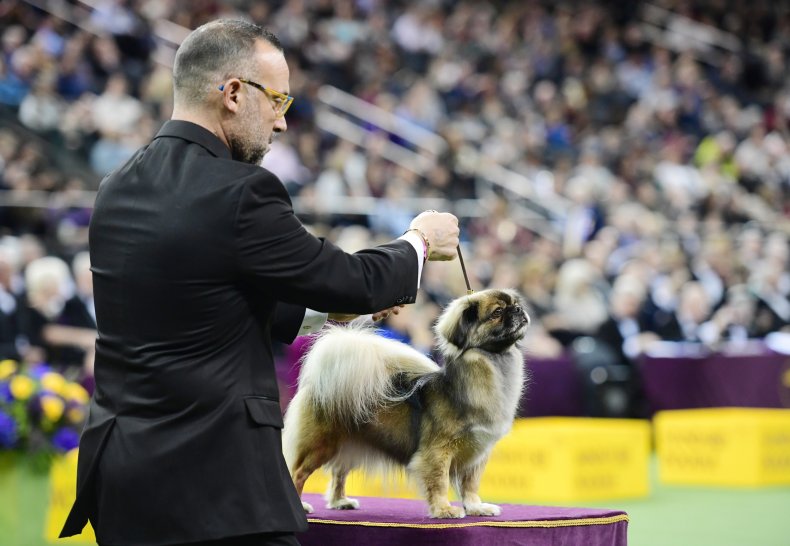 Tibetan Spaniels once acted as monks' watchdogs. In this photo, the Tibetan Spaniel competes during the Non-Sporting Group judging at the 143rd Westminster Kennel Club Dog Show at Madison Square Garden on February 11, 2019 in New York City.
Sarah Stier / Stringer/Getty
As expected from a breed that traces its origins to working as a companion to Buddhist monks in the Himalayas, Tibbies are known for their calm and gentle demeanor.
Over the centuries, it has also grown to become independent, intelligent and eager to please its owners. Owners would be happy to learn Tibbies require only limited grooming and enjoy long walks or jogs with active people, just make sure the little fellas can keep up with you.
Chihuahua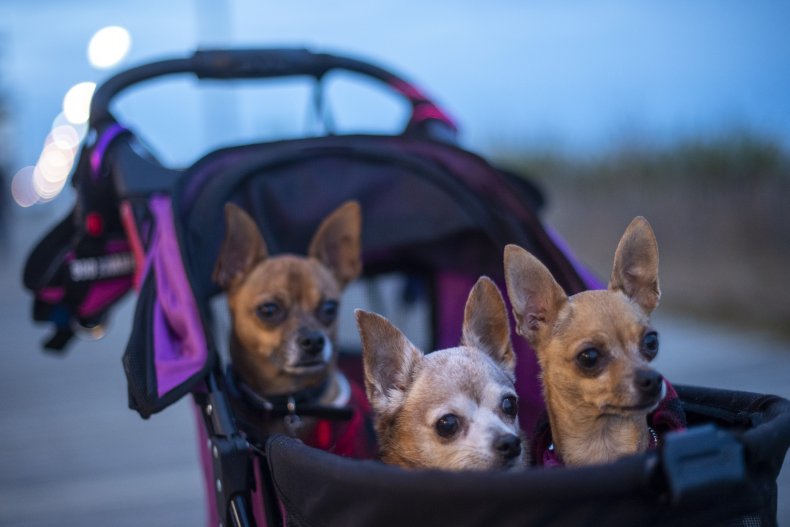 Chihuahuas are simply precious. In this photo, three chihuahuas service dogs wearing matching coats watch their owner from a stroller on November 27, 2020 in Rehoboth Beach, Delaware.
Mark Makela / Stringer/Getty
Forget the stereotype, a well-trained and socialized Chihuahua is a loveable breed that exudes charm and poses a fierce loyalty for its owner. Ideal for city living, Chihuahuas need little exercise and enjoy plenty of quality time in their favorite lap.
Be careful, the Chihuahua's reputation is merited if owners forgo training them. But, with a little coaching, Chihuahuas can make for an adaptable and charming addition for their owner.