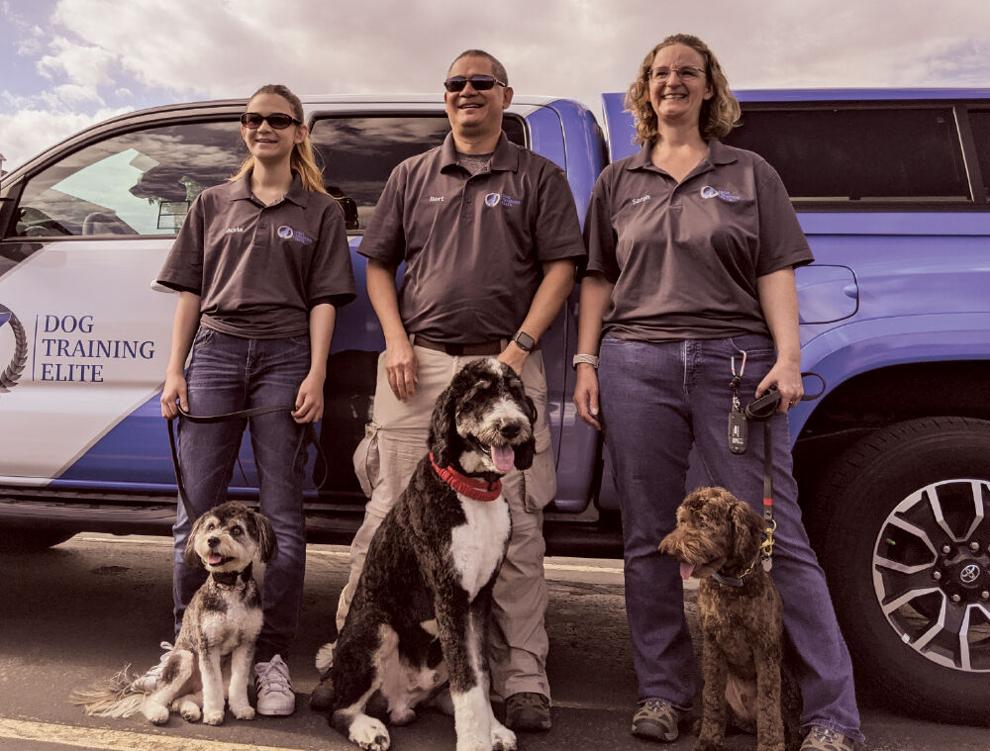 "We're going to take over Colorado!" said Adria Ballard, left, with her parents Bert and Sarah Ballard, Dog Training Elite Franchisees.
How do I train a dog to be your ring bearer? "We need to recreate those distractions found at a typical wedding," said Kelley Rosequist, CEO of Dog Training Elite. "It is one thing to get the dog to do it in someone's living room."
As a result, the one-year-old franchise's trainers hold "really fun group classes" in local parks and invite other customers to bring their pets and host a mock wedding. It costs a total of $ 1,800. "We haven't had a wedding drink so far. I'm sure it's only a matter of time, "said Rosequist. "We tell people dogs will be dogs. You can only control so much. "
The company has been based out of Utah for 40 years and began franchising in 2020. Her father, John Mestas, started out as Arrow Kennels and originally focused on training high-level hunting dogs. "He coached people through these competitions and competed himself. He led hunting expeditions and took people with him on goose hunts. It was very specialized, "she said.
Mestas noticed a niche in the market for daily obedience training. Rosequist is now using her socio-educational background to develop new training modules for Dog Training Elite: including service dog training for PTSD, psychiatric support, mobility support, and diabetes and autism support.
"Especially the autism support program, that was my baby, that was a program I developed and I can use a lot of my clinical knowledge," she said. The training for service work lasts six months to two years; Personal protection the same. These packages range from $ 3,000 to $ 7,000.
"We worked really hard to make sure it was always affordable. On average, service dogs cost $ 40,000 to $ 60,000, so we want to make sure they're available to everyone, "she said.
Standard obedience packages last two to four months and cost between $ 600 and $ 2,000. As Dog Training Elite, now with 11 franchisees in 34 territories, expands into new markets, it will quickly switch to meet new demands such as weddings desired in Austin, Texas.
Kelley Rosequist, CEO of Dog Training Elite, uses her social work background to create training modules.
Bert and Sarah Ballard are former California communications professors who now run a Dog Training Elite franchise in Denver. "We were looking for the opportunity to become self-employed," says Sarah Ballard.
Her daughter Adria, 19 years old, is the training manager, so she manages all trainers and also stays up to date via social media and inventory.
"About three years ago my health went downhill. I was in a dark place, "Adria said and started looking for service dogs. "I found a dog from a private party and when that dog was in my arms I knew I wouldn't go without her. Her name is Snickerdoodle. She really saved my life. "
The upfront cost of a Dog Training Elite franchise ranges from $ 120,000 to $ 150,000. "You gave us a lot because we invested in so many areas," said Bert Ballard. They bought five hold-out territories for the entire Front Range of Colorado. "We are in the third year of our five-year plan, and we are nine months into this year, and this is during COVID."
Adria is enthusiastic about her goal: "We will take over Colorado!"
Rosequist said she looks forward to making dog training available across the US, "and most importantly, helping people across the country have access to the service dogs they desperately need to make the world a better place for dogs and their people." close."
She has a quick answer to this question: is it more about training the dog or the training of humans? "Absolutely train people."